There were tumultuous scenes at Peterborough town hall yesterday evening as the council meeting was abandoned due to protesters in the public gallery demanding that councillor Andy Coles resign and leave the building.
In May Coles, the then Deputy Police & Crime Commissioner for Cambridge, was unmasked as Andy "Van" Davey – an undercover cop who infiltrated the animal rights movement from 1991-95. He worked for the disbanded Special Branch unit called the Special Demonstrations Squad and had a reputation as someone who overstepped the mark with female activists.  Coles deceived then teenager Jessica (not her real name) into a longterm, intimate relationship by claiming he was only 24 when really he was 32 and married.
The protest was organised by the group Police Spies Out of Lives and began about 5.30pm with leafletting and banners at the entrance to the town hall in St Peter's Road. About 30 people were present, a mixture of spycops campaigners, councillors and locals. People walking past and going into the building were handed a leaflet calling for Coles' resignation. It said:
It is entirely inappropriate for someone who has committed these human rights abuses to be in a position of respect and authority; he has breached the council's code of conduct. Andy Coles has resigned his post as Deputy Police & Crime Commissioner and he must now step down from his post as councillor for the Fletton and Woodston ward as well.

He is one in an ever-increasing line of undercover police revealed to have abused women in this way and it is essential that we demand accountability for these actions. He must come clean. He must resign.
The public gallery was full of protesters for the meeting which began at 7pm. When it was claimed there were  no questions received from the public – in fact submissions about Coles' suitability as a councillor had been ignored – people began shouting, asking why he was present given the damning revelations about this past. A banner that Jessica had made herself was hung from the gallery, in full view of the whole meeting.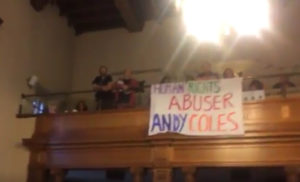 For several minutes calls for Coles' resignation went on until the mayor decided to adjourn the meeting. Police officers then appeared and asked  protesters to either stop shouting or leave. They also said the Mayor would not reconvene the meeting until Jessica's banner was removed. None of their requests were complied with.
For the next half an hour, the police passed on messages between senior councillors and protesters. An offer of a meeting with council leader John Holdich was made but only at a later date. Councillors did return to the chamber but Coles was still among them and he even appeared to be smiling. This only intensified the shouts and chants from the gallery and at about 8pm the mayor announced his intention to postpone the meeting until the following Wednesday. This was greeted with cries of "shame on you" directed at  Coles as he walked out of the chamber.
In an interview with the Peterborough Telegraph, Holdich said "They are claiming they want justice. Well justice in my opinion is when you are found guilty. You are innocent until you are proven guilty. Unfortunately Cllr Coles is not allowed to speak for himself because the Met have told him he must not say anything and he is obeying that."
There is nothing to stop Coles defending himself. Other former spycops such as Bob Lambert and Mark Kennedy have spoken out. The fact he says nothing says everything; he knows he has no defence or excuse for his despicable behavour. In fact the Met has already admitted this in a landmark apology it issued in 2015:
Thanks in large part to the courage and tenacity of these women in bringing these matters to light it has become apparent that some officers, acting undercover whilst seeking to infiltrate protest groups, entered into long-term intimate sexual relationships with women which were abusive, deceitful, manipulative and wrong.

I acknowledge that these relationships were a violation of the women's human rights, an abuse of police power and caused significant trauma. I unreservedly apologise on behalf of the Metropolitan Police Service.
As things stand there will be another attempt to reconvene the council next Wednesday, 26 July, at 7pm. Campaigners have vowed to turn up again and will be making the same demands for Coles' resignation. In a interview for local radio today, 20 July, Holditch said they would not be permitted into the public gallery and instead would be ushered into a separate room with coverage of the meeting relayed on television. This is clearly an attempt to stifle peaceful and legitimate protest.
All this would be unnecessary if Andy Coles did the decent thing and stood down as a councillor. He should apologise for what he did 25 years ago and disappear from public life for good.